To register for an SOS Outreach program you need to know the session number for your specific program. If you do not know your session number, please speak with the local youth agency coordinator or call 970-926-9292 or email your SOS Outreach office.
Para inscribirse en un programa de SOS Outreach, necesita saber el número de sesión para su programa específico. Si usted no sabe su numero de sesión, por favor hable con el coordinador de su escuela o agencia de juventud (con la cual usted participa en SOS Outreach), o alternativamente puede llamar 970-926-9292 o escribir a su oficina local de SOS Outreach.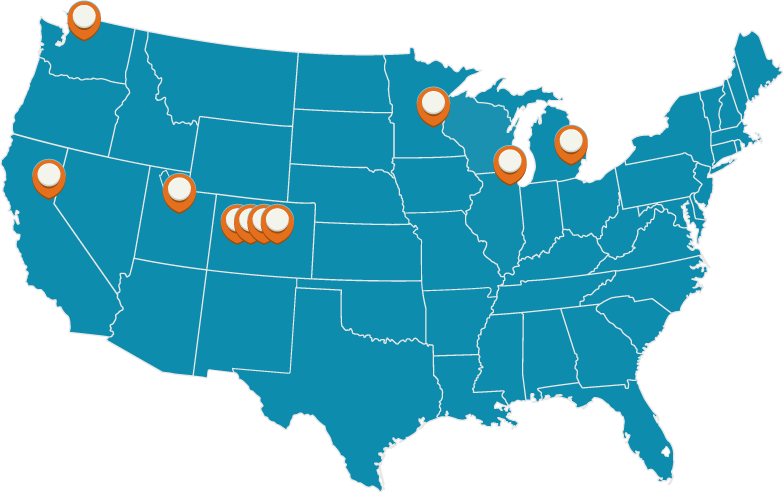 Eagle County, Colorado (Edwards)
450 Miller Ranch Road,
Edwards, CO 81632 
Contact our Eagle County office
Summit County, Colorado (Frisco)
110 3rd Avenue South
Frisco, CO 80443 
Contact our Summit County office
Denver, Colorado
3532 Franklin St., Suite J
Denver, CO 80205 
North Lake Tahoe, NV
948 Incline Way
Incline Village, NV 89451
Contact our North Lake Tahoe office
South Lake Tahoe, CA
3053 Harrison Ave. Unit #204
South Lake Tahoe, CA 96150
Contact our South Lake Tahoe office
Park City, UT
1283 Deer Valley Dr.
Park City, UT 84060
How old must a child be to participate in SOS Outreach?
SOS works with youth in 4th grade and up.

How can I get my group or child involved in a summer or winter program with SOS Outreach?
Contact the SOS location closest to you! SOS currently has programs throughout the US with full-time office locations in Denver, CO; Frisco, CO; Edwards, CO; Park City, UT; North Lake Tahoe, NV, and South Lake Tahoe, CA as well as part-time offices in Seattle, WA; Yakima, WA; Portland, OR; Durango, CO; Steamboat Springs, CO; Leadville, CO; Chicago, IL; Detroit, MI; Minneapolis, MN. For more information, contact us by email or call us at 970.926.9292.

My child doesn't have any winter sports or outdoor gear. Can my child still participate?
Absolutely! SOS has a large inventory of jackets, snow pants, goggles, and gloves, for winter programs, as well as everything necessary for hiking and camping including tents, sleeping bags, sleeping pads, and backpacks. In our introductory program, all equipment and winter clothing is provided should your child need it.  As youth progress to the mentoring program, we are still able to provide all of the winter clothing and there are options in many locations to purchase ski/snowboard equipment at a very discounted rate.

Is there any cost for students to participate?
There is a fee for service in order to participate in SOS's programs. The fee covers a portion of program expenses and with support from our corporate sponsors and generous donors, SOS Outreach covers the remainder of the necessary expenses. Please contact your local program contact for pricing.

What does "underserved" really mean?
The kids we help are at a disadvantage because of things like their address and socioeconomic status, not their spirit. In fact, our kids are optimistic, resilient and ready to work hard. They simply don't have the same access to resources and information that many of us did, which prepared us for life as an adult. Risk factors we look at include – among others – poor attendance in school, low grades, speaking English as a second language, exposure to drugs and alcohol, involvement with the court system, and low household income. In general, we recruit participants who are dealing with at least two of our risk factors. View our Participant Assessment Form to see if your child could benefit from our programs.

Still have questions?
Please feel free to call us at 970.926.9292 or email us at sos@sosoutreach.org
Sort by Location Below
Sun

Mon

Tue

Wed

Thu

Fri

Sat

June

1

Wilderness Intro to Backpacking

https://www.sosoutreach.org/blog/events/wilderness-intro-to-backpacking/2019-07-01/

No additional detail for this event.

Make Mondays Matter at Prosit – Avon

https://www.sosoutreach.org/blog/events/make-mondays-matter-at-prosit-avon/2019-07-01/

Our friends at Prosit in Avon are helping raise funds for SOS Outreach! Stop by any Monday during the month of July from 11a-11p and help support local Eagle County programs!

2

Wilderness Intro to Backpacking

https://www.sosoutreach.org/blog/events/wilderness-intro-to-backpacking/2019-07-01/

No additional detail for this event.

3

Wilderness Intro to Backpacking

https://www.sosoutreach.org/blog/events/wilderness-intro-to-backpacking/2019-07-01/

No additional detail for this event.

4

5

6

7

8

Wilderness Backpacking Session 2 – Summit County

https://www.sosoutreach.org/blog/events/wilderness-backpacking-session-2-eagle-county-2/2019-07-08/

No additional detail for this event.

Wilderness Backpacking Session 2 – Eagle County

https://www.sosoutreach.org/blog/events/wilderness-backpacking-session-2-eagle-county/2019-07-08/

No additional detail for this event.

Make Mondays Matter at Prosit – Avon

https://www.sosoutreach.org/blog/events/make-mondays-matter-at-prosit-avon/2019-07-08/

Our friends at Prosit in Avon are helping raise funds for SOS Outreach! Stop by any Monday during the month of July from 11a-11p and help support local Eagle County programs!

9

10

11

12

13

Breckenridge Beer Festival

https://www.sosoutreach.org/blog/events/breckenridge-beer-festival/2019-07-13/

The 14th Annual Breckenridge Summer Beer Festival is one of the premiere summer events in Breckenridge each year bringing over 40 breweries for tastings, live music, a VIP area, and wonderful food and retail vendors.  All taking place outside at Beaver Run Resort & Conference Center in Breckenridge with amazing views of the mountains!  Enjoy a weekend of playing outdoors and a Saturday afternoon of beer tastings from some of Colorado's finest breweries & other breweries from around the world!  The Breckenridge Summer Beer Festival draws a wide range of people from beer aficionados to families.  And better yet, SOS Outreach is the beneficiary of this year's event!

14

15

Make Mondays Matter at Prosit – Avon

https://www.sosoutreach.org/blog/events/make-mondays-matter-at-prosit-avon/2019-07-15/

Our friends at Prosit in Avon are helping raise funds for SOS Outreach! Stop by any Monday during the month of July from 11a-11p and help support local Eagle County programs!

16

Introduction to Rafting

https://www.sosoutreach.org/blog/events/introduction-to-rafting/2019-07-16/

SOS Outreach is partnering with OARS to offer a one-day rafting trip for SOS youth along the American River. To participate, youth must be 12 years and older and be comfortable in the water.

Youth will depart from South Lake Tahoe at 8 am from the parking lot by Tacobell at the Y next to Kmart. Drop off will be at 6:30 pm at the same location. For North Lake Tahoe we will depart from Kings Beach, CA and from Truckee, CA details to be specific to the families registered.

17

18

Beaver Creek Rodeo Series – Eagle County

Join our volunteer crew as we roam the event with coolers to alleviate drink lines and raise $$ for SOS programs! Volunteers must be 18+

19

20

21

22

Wilderness Backpacking Session 3 – Front Range

https://www.sosoutreach.org/blog/events/wilderness-backpacking-session-3-eagle-county-2-2/2019-07-22/

No additional detail for this event.

Wilderness Backpacking Session 3 – Summit County

https://www.sosoutreach.org/blog/events/wilderness-backpacking-session-3-eagle-county-2/2019-07-22/

No additional detail for this event.

Wilderness Backpacking Session 3 – Eagle County

https://www.sosoutreach.org/blog/events/wilderness-backpacking-session-3-eagle-county/2019-07-22/

No additional detail for this event.

Make Mondays Matter at Prosit – Avon

https://www.sosoutreach.org/blog/events/make-mondays-matter-at-prosit-avon/2019-07-22/

Our friends at Prosit in Avon are helping raise funds for SOS Outreach! Stop by any Monday during the month of July from 11a-11p and help support local Eagle County programs!

23

24

25

26

27

28

Wilderness Backpacking Expedition in Yosemite

https://www.sosoutreach.org/blog/events/wilderness-backpacking-expedition-in-yosemite/2019-07-28/

SOS Outreach is partnering with Lasting Adventures to offer a 6 Day Backpacking trip in Yosemite Valley July 28 – August 2. Youth on this trip have participated in the Introduction to Backpacking Trip through the Tahoe Rim Trail the previous year or have prior backpacking/hiking knowledge.

Youth will depart from Tahoe and carpool to Yosemite Valley and drive back. Details will be discussed with the families who signed up closer to the departure date.

29

Wilderness Backpacking Expedition in Yosemite

https://www.sosoutreach.org/blog/events/wilderness-backpacking-expedition-in-yosemite/2019-07-28/

SOS Outreach is partnering with Lasting Adventures to offer a 6 Day Backpacking trip in Yosemite Valley July 28 – August 2. Youth on this trip have participated in the Introduction to Backpacking Trip through the Tahoe Rim Trail the previous year or have prior backpacking/hiking knowledge.

Youth will depart from Tahoe and carpool to Yosemite Valley and drive back. Details will be discussed with the families who signed up closer to the departure date.

30

Wilderness Backpacking Expedition in Yosemite

https://www.sosoutreach.org/blog/events/wilderness-backpacking-expedition-in-yosemite/2019-07-28/

SOS Outreach is partnering with Lasting Adventures to offer a 6 Day Backpacking trip in Yosemite Valley July 28 – August 2. Youth on this trip have participated in the Introduction to Backpacking Trip through the Tahoe Rim Trail the previous year or have prior backpacking/hiking knowledge.

Youth will depart from Tahoe and carpool to Yosemite Valley and drive back. Details will be discussed with the families who signed up closer to the departure date.

31

Wilderness Backpacking Expedition in Yosemite

https://www.sosoutreach.org/blog/events/wilderness-backpacking-expedition-in-yosemite/2019-07-28/

SOS Outreach is partnering with Lasting Adventures to offer a 6 Day Backpacking trip in Yosemite Valley July 28 – August 2. Youth on this trip have participated in the Introduction to Backpacking Trip through the Tahoe Rim Trail the previous year or have prior backpacking/hiking knowledge.

Youth will depart from Tahoe and carpool to Yosemite Valley and drive back. Details will be discussed with the families who signed up closer to the departure date.

August

August

August